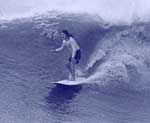 I really should have gotten to meet her... dang!!!
Double dang!!!
I was born just 2 years before Rell and raised by a similar ocean spirit, only two and a half thousand miles away, but on similar beaches, only in southern California. I started surfing very young, around eight years old, and I was fortunate enough to grow up surfing with some of So Cal's legendary surfers like David Nuuhiwa, Greg Noll, Mike Doyle, Happ Jacobs, Lance Carson, Rick Irons, Dewey Weber, you know, groms like that. I watched surfing grow from its infancy to what it is today and I am damn proud to have been a part of it.
I had heard Rell's name spoken here and there, seen her in surf films and hoped one day to meet her in person. Unfortunately for me, that day never came, but I always felt our spirit's had a connection. I surfed everyday and my mom used to warn me that if I kept going in the water so much that I would turn into a fish and grow gills, but my heart is and always has been of the sea, and, after all these years, that's where you will still find me.
Now, when Jan and Tony came to us to build this website, the connection became concrete. Words cannot express how stoked I am that the building of this website-tribute to Rell has found its way to me, of all people. I am truly in love with Rell and her very spirit and feel the same about Jan and Tony and their 'cute-as-a-bugs-ear' daughter, Kamalani. They are absolutely amazing, wonderful, loving people. You can be sure that Rell's spirit is alive and well right there in her family. You feel it fill the room when they walk in.
This website is, and always will be, a work-in-progress, we will continue to let it grow as it will. Much of the material in this site, so far, I found on various other sites on the internet. It is our hope that people like you that knew Rell, or knew of her, will send us a story and perhaps a few pictures to post here on this site to make this site like no other, full of personal stories of love from all over the world. This can, should and will happen. Like the magic of Rell's spirit, it is also the magic of the internet to bring the whole world closer together. We must do this, do it for Rell, do it for all of us. Make it so.
If you see something on this site that concerns you, please feel free to contact me with any questions or problems you might have spotted. It is my promise that I will do my very best to insure that this site is worthy of all that is Rell Sunn.

Mahalo nui loa,
Roby LaPorte
www.robylaporte.com
roby@wowizowi.com