Boarding America salutes those individuals who have had a profound influence on the sport and culture of surfing.
Meet the girl who started it all...
Silver Surfer:Rell Sunn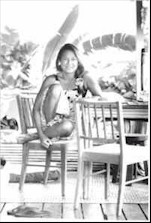 Longboard, shortboard, pro competitor and soul surfer; canoe paddler, diver and spearfisher; Rell's parents no doubt sensed destiny when they gave her the middle name of Kapolioka'ehukai: Heart of the sea. Raised on the beach at Makaha, she fell in love with surfing at the age of four. Her tutors included classic surfers like Buffalo Keaulana and Buzzy Trent who taught her not only surfing, but how to dive and spear.
She exemplifies the Hawaiian's aloha spirit whether it's teaching hulas, water safety (she was Hawaii's first full-time female lifeguard) or throwing impromptu luaus for hungry guests.
Everyone she meets, including top surfers Sunny Garcia and Kalani Robb, refer to her as Auntie Rell. A 1966 trip with the legendary Duke Kahanamoku to the world contest in San Diego piqued her interest in traveling. For over 30 years she surfed her way around the globe becoming Hawaii's most recognized surfing ambassador to the world.
Her biggest contribution to the sport of surfing was her image as a strong, confident role model for the growing community of women's surfing. Rell helped to establish women's professional surfing, along with other legends Margo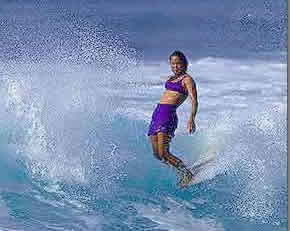 Oberg, Jericho Poppler and Lynne Boyer, creating a pro circuit on the International Professional Surfing (IPS) World Tour. Twice Rell finished third in the year-end ratings and still rates fifth all-time in the ASP's top eight year-end appearances. Emphasized recently was her penchant for helping young surfers…her Hawaiian Menehune surf contest celebrated it's 20th anniversary in 1996. The Menehune is one of the world's biggest contest of it's kind. It's held just for kids and over 300 participate. Up until almost her death, from cancer, at age 46 in January of 1998, Rell remained an avid surfer, diver, canoe paddler and one of the world's premier female longboarders
thanx to Boarding America, long live 'Boardom'