The Rell Sunn 25th Silver Anniversary Menehune Surf Contest
Makaha Beach, Oahu.
Thanksgiving weekend, 2001
The Rell Sunn Menehune Surf Contest is held every year on the beautiful beach of Makaha in Oahu, and each year we see more and more Maui kids going over with their families to spend their Thanksgiving weekend at the three day event. This year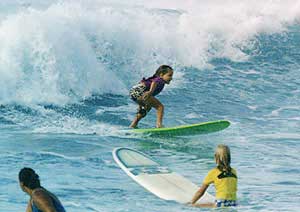 had to be the record, with 16 kids from Maui traveling. Most of us who came all know each other from the other contests we have attended since these kids were small and we all have become close friends. We arrived on Thanksgiving day, the day before the contest, so the kids could acclimate and practice.
That evening we shared a memorable Thanksgiving dinner with all the families giving thanks for the event bringing us together. We also prayed we would have waves, since the surf was still flat at sunset. Before the sun had risen the next morning we heard waves a 'crashing. And low and behold there was surf. When we arrived at the contest at 6:30 a.m., the surf was three to four feet. All the kids were so excited they went out before the contest. They held the contests for Shortboard 10 to 12 boys and girls, and Shortboard 7 to 9 years boys that whole day. There were eight heats for boys aged 10 to 12. A very tough schedule. It was very exciting watching these boys compete against each other, especially because they are friends. However, when it comes to competition, they became focused and driven to succeed.
After the semi-finals were over, Maui counted four out of six boys in the finals for the 10 to 12 age: Torrey Jenkins, Jimmy Mckinney, Dustin Payne and Wesley Larsen. In the 7 to 9 year old division, Granger Larsen and Billy Kemper advanced.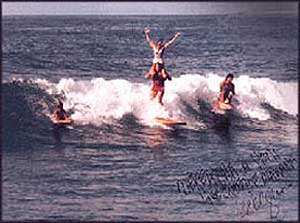 The second day of the contest was Saturday and we woke to flat surf. Bummer. They used that day to hold the Longboard and Bodyboard heats. Most of the kids from Maui entered two divisions, and the most popular is Longboard. Once again, Jimmy, Dusty, Torrey and Wesley make it to the finals for the 10 to 12 year group, doing all sorts of fancy moves with the small surf. And right behind these boys was the 7 to 9 year old boys Longboard. It was a very tough heat with some great talent from all the islands. Four Maui boys made it to the finals: Hans Vandervoort, Granger Larsen, Keanu Ka`a and Albee Layer.
By noon on Saturday, all of the Maui boys were done with their heats. The girls were scheduled for Sunday. So what to do the rest of the day? Surf!
Ric Larsen, who was taking some awesome surf shots of these kids throughout the contest, took it upon himself to take some kids to the North Shore. Casey Satterfield, Albee Layer, Matty Schweitzer, Dustin Payne, Torrey Jenkins and of course his boys headed up to Sunset Beach. Lots of barrells were caught.
Every night we were there we had dinner together. Each member of the Maui ohana brought a dish down to the pool area. The families that came were Jill and Gino Marzo with their son Clay and daughter Gina, Evan and McKinnney with their son Jimmy, Lisa and Wendell Payne with their sons Dustin, Dillon and daughter Molly. Kim and Paul Jenkins with their sons Torrey and Timmy.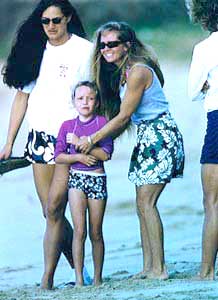 Al and Connie Layer with their son Albee. Ric and Tanya Larsen with their sons Wesley and Granger and daughter Sierra and real close buddies of the boys–Reece Charcoal and Matty Schweitzer. Also there were Ken Apo with his son Alika, Ross Ka`a with his son Keanu and Chris Vandervoort with son Hans. It was great having them all there, and almost felt like we were still on Maui.
That last night, at our gathering, we were all concerned that the officials might cancel the final like last year. The chances for a new swell for the final did not look good. It was a 50% chance the swell would wrap around. We all woke up early to see if there were any indicators in sight. There were. Ric yells, "There's surf!" and I'm sure the whole building heard him. Off we went.
Sure enough, it was three to four feet. Fortunately, the older kids were very happy. But, unfortunately the little ones had not done their semi-heats yet and they were put in the water first. As the older kids were chomping at the bit, the adults had to endure watching the little ones getting beat.
We only had two that came from Maui that were Peanuts: Molly Payne and Timmy Jenkins. Molly made it to the finals in Longboard and Shortboard for the 7 to 9, and took fourth in both divisions. Timmy, our youngest competitor, made 5th place bodyboard.
After the competition awards, they had a few special awards for some of the surfers. Molly Payne received the Best Sportsmanship award and was given a new surf board. Reason? Even though the big surf was pounding on these kids, most of them stuck it out. Miss Molly was washed in, and while many kids would have given up, under her tears and fear she was determined to make it. Coming into the beach and telling her mom, "I have to get two more waves". We were all so proud of her.
Thank you to all for making this contest so much fun, and to all the kids who competed and entertained us with their talent. (We missed you Bill and Kai Barger.)
Tanya